Baking your own baguette and sourdough bread 🍞
Recipes for making your own baguette (in French), sourdough bread (in English), as well as basic explanations to make your own levain starter.
Making my own bread was one of my covid-time trials, and I had a great time making doing it for a while. This article contains recipes for making Baguette (in French), Sourdough Bread (in English), as well as basic explanations to make your own levain starter.
Baguettes
Merci Sami!
Ingrédients
1kg farine
640g eau (plutôt froide)
18g sel
7g levure
1 baguette <=> 350g de pâte
Préparation
Pétrissage manuel: https://youtu.be/wDFb4Mkz7Os
Une fois la pâte pétrie, la mettre dans un récipient fermé. Soit la mettre au frigo au bout de 30 minutes (à cuire le lendemain), soit la laisser 1h30 dehors
Une fois que la pâte est reposée (frigo ou dehors), la découper (pour faire par exemple deux baguettes). Attention à découper des morceaux qui font le même poids pour avoir la même cuisson ensuite
Façonnage: https://youtu.be/Mhzvcih-sRk
Après le façonnage, attendre 1h30 (la pâte doit avoir gonflée mais ne pas retomber)
Inciser le dessus (avec une lame de boulanger ou un couteau bien affûté): https://youtu.be/1ebKpEG0tBM
Préchauffer le four à 250C en chaleur statique avec un récipient rempli d'eau au fond du four qui va dégager de la vapeur. Ou alors asperger les baguettes avec un vaporisateur avant de les enfourner
Cuire pendant 20 minutes environ
Pain
Ingrédients
500g farine T65
330g eau tiède
9g sel
2g levure sèche (ou 4g de levure fraiche)
Préparation
Si on utilise de la levure sèche, la délayer dans un tout petit peu d'eau froide
Mélanger farine et eau dans un gros récipient
Laisser reposer 1 heure couvert d'un torchon, une fois avoir obtenu un mélange homogène
Ajouter levure et sel
Pétrir pendant 5 min: étirer la pâte, la replier sur elle-même et appuyer avec le poing. Astuce: mouiller ses mains de temps en temps pour ne pas que ça colle
Recouvrir d'un torchon et:
soit laisser 1 heure à température ambiance, puis 24 heures au frigo (meilleur résultat)
soit laisser 2 heures à température ambiante si on veut du pain plus tôt
Couper en 2 parties égales
Façonner en pain:
Faire une préforme en ovale
Fariner un torchon
Retourner la préforme: plier 1/3 sur elle-même et souder avec le bout des doigts, tourner de 180 deg, plier 1/3 sur elle-même et souder avec le bout des doigts, plier une 3e fois sur elle-même et souder avec le poignet.
Poser sur le torchon, la soudure en bas. Recouvrir du torchon et reposer 1 heure
Cuir 25 min dans un four préchauffé à 230C avec un gros récipent d'eau pour humidifier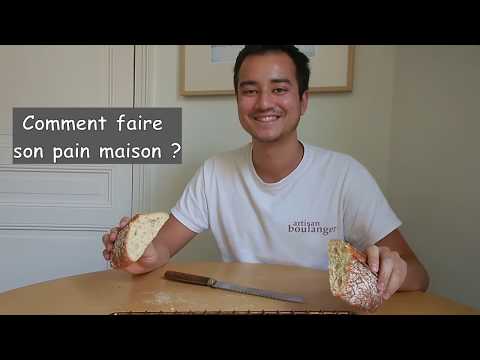 Astuce de cuisson
Merci à Jérémy pour l'astuce!
Au lieu de cuir 25 minutes au four comme indiqué plus haut, on peut aussi faire une cuisson à la cocotte:
Préchauffer le four à 230C avec la cocotte dedans
Insérer le pain et cuir environ 20 minutes
Enlever le pain de la cocotte et terminer la cuisson pendant 15 minutes pour bien dorer
Levain Starter
Recipe by Tartine Bakery (California), available on their website. Text adapted a bit. A video was made about it by Manon Lapierre - la petite bette (Québec) on Youtube.
Ingredients
Organic Flour (more of the ): half white-bread flour (farine blanche de blé T55), half whole-wheat flour (farine de blé complète T150). But it's also feasible using only (but more) white-bread flour, or farine intégrale (T170) instead of farine complète (T150), or even using rye flour (farine de seigle- see note below)
Water
Making the starter
Combine 1,000 grams white-bread flour with 1,000 grams whole-wheat flour. This is the mix you'll use throughout the roughly week-long process.
Put 100 grams of warm water (about 80°F or 25°C) in a small jar or container and add 100 grams of the flour mix. Use your fingers to mix until thoroughly combined and the mixture is the consistency of thick batter. Cover with a towel and let sit at room temperature until mixture begins to bubble and puff, 2 to 3 days.
When starter begins to show signs of activity, begin regular feedings: at the same time each day discard 80 percent of the starter and feed remaining starter with equal parts warm water and white-wheat flour mix (50 grams of each is fine). Always keep the starter at room temperature.
When starter begins to rise and fall predictably and takes on a slightly sour smell, it's ready; this should take about 1 week. Reserve remaining flour mix for later feeding of leaven.
Using it for baking bread
The night before baking:
Discard all but 1 tablespoon of the mature starter.
Mix the remaining starter with 200 grams of warm water and stir with your hand to disperse.
Add 200 grams of the white-wheat flour mix and combine well.
Cover with a towel and let rest at room temperature for 12 hours or until aerated and puffed in appearance.
To test for readiness, drop a tablespoon of leaven into a bowl of room-temperature water; if it floats it's ready to use. If it doesn't, allow more time to ferment.
Note
Joshua Weissman in his "The Ultimate Sourdough Starter Guide" video on Youtube has a more sophisticated recipe, involving a difference schedule with decreasing quantity of mature starter that you retain everyday; He uses whole dark rye flour (farine de seigle complète ou intégrale) and organic all-purpose flour (farine de blé T55). Not tested yet.